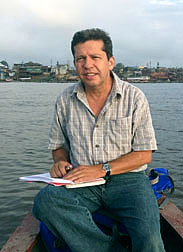 Juan Carlos Galeano was born in the Amazon region of Colombia. He is the author of Baraja Inicial (poetry, 1986), Pollen and Rifles (1997) a book on the poetry of violence, and Amazonia (poetry, 2003), Sobre las cosas (poetry, 2010), and Amazonia y otros poemas (poetry, 2011), and Historias del viento (poetry, 2013). He teaches Latin American poetry and cultures of the Amazon basin at Florida State University.
Recent Interviews
Poetry Readings/Lecturas de Poesía
Contact Dr. Galeano
Feel free to contact Juan Carlos Galeano about readings, workshops on Amazonian studies, Latin American poetry, and translation. There will be times when he is teaching and traveling in the Amazon basin and cannot quickly respond to e-mail, but he will answer as soon as possible.
Email: jgaleano@fsu.edu
Mobile: +1 850 321-5251
Office: +1 850 644-3728
Fax: +1 850 644-0524
Post
Juan Carlos Galeano
Department of Modern Languages and Linguistics
Florida State University
362 Diffenbaugh Building
Tallahassee, Florida 32306-1540
Poems from Amazonia (2003) have been published in magazines and journals such as The Atlantic Monthly, Ploughshares, Partisan Review, Review: Literature and Arts of the Americas, Field, Casa de las Américas, and Indiana Review, among others. His poems and folktales have also appeared in college textbooks, collections and in international anthologies such as A poesía se encontra na floresta (2000), Literary Amazonia (2004), The Poetry of Men's Lives: An International Anthology (2004), The Encyclopedia of Religion and Nature (2005), Colombia en la poesía colombiana (2010), Jinetes del aire (2011), Abuelas hispanas: desde la memoria y el recuerdo (2012), and The Ecopoetry Anthology, (2013).
Juan Carlos Galeano's Amazonia is both a poetic sequence and an amazing story… Rarely have the lyric and the narrative, reality and imagination, history and myth, combined so succesfully to make such an original, complex and, at the same time, immensely readable and spellbinding literary work."

—Charles Simic
His poetry, inspired by Amazonian cosmologies and the modern world, has been published internationally and translated into French, English, Portuguese, and German. It has been anthologized in a CD-ROM titled Poesía Colombiana (four centuries of Colombian poetry) produced by Casa Silva in Colombia, and in several anthologies in Latin America.
He also has published book-length translations of American poets in Latin America and translated Latin American poets for American journals.
His research on Amazonian culture has appeared in his collection of folktales Cuentos amazónicos (2007), Folktales of the Amazon (2009), as well as in the film he co-directed and co-produced, The Trees Have a Mother (2008).

Juan Carlos Galeano is the director of the Service/Learning program Journey Into Amazonia, a summer program in Iquitos, Peruvian Amazon. This is a program designed for students who would like to experience life in the Amazon while working in service learning fieldwork.
Videos
Photo Essay: Journey Into Amazonia 2015
Video: Journey Into Amazonia. Verano de 2013
Selected Anthologies
and Journals